Hey guys,
I'd like to start off with saying that already quite a few people have registered on the site. The same goes for placing comments and best of luck wishes. Thanks for this! We draw a lot of energy and motivation from your support. For everyone that has offered to help already: it is much appreciated. When the time is right we will contact you via this website. But for now... Patience is a beautifiul thing ;)
As Florian mentioned in his previous blog post, one of the main goals of this site is to keep you guys informed about our progress in a transparant manner. While Florian will focus more on the technical aspects, I will try to keep you updated about pretty much everything else. Currently one of the things which is keeping us very busy (obviously i would say) is the game design.
Game design
There are various known definitions for game design. But as often is the case wikipedia is our best friend: "Game design is the game development process of designing the content and rules of a game in the pre-production stage and design of gameplay, environment, storyline, and characters during production stage."
In other words: in the pre-production stage (which is the stage that we are in momentarily) we need to identify and decide on what content and which rules we want to include in CoCv2. But where on earth do you start? We decided to start with identifying the game mechanics.
Game Mechanics
What does the game consist of? Which elements (mechanics) make the game enjoyable to play? And how do these game mechanics interact with each other? Below you find the draft outcome of our game mechanics brainstorm. Please click on the image to view a larger version.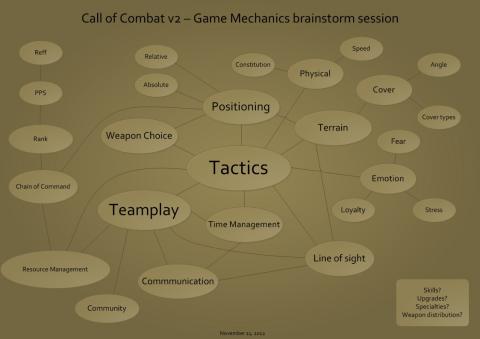 More to follow soon.

Regards,
Erik
ps. Dont forget to subscribe for our mailing list so that we can stay in touch!