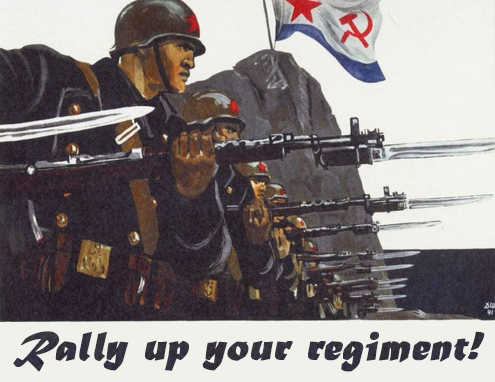 Attention, officers and soldiers!
Our team is pushing hard while we start the end of our campaign! For this game update we have added Regiments to the game, the first major step towards all the community features we are excited about implementing. With this update you can now see your regiment in game and on the stats page!
And to celebrate this we will be hosting a Regiment tournament this Sunday, March 15th, at 8pm GMT+1 / 3pm EDT. As the most cunning of you may have noticed, we will be streaming the tournament games at http://www.twitch.tv/kavagamestudio, with our Devs Florian "KAding" and Brett "UltimateGod" as commentators!
Fight hard, because the winner takes it all! The victorious regiment will receive the 1st and only Kickstarter tournament trophy, to be displayed in the regiment stats for the awe (and envy) of the other regiments!
This is only the first of many events we want to give to you, so keep supporting us, keep playing the game and sharing with your friends and communities. Together we will conquer this campaign!
Rally up the troops! Get your squads ready for deployment! And join us in our 1st CoC regiment tournament!
~Team Kava